The Coolest Gift For Artistic Kids! Create Stunning Art In Minutes!
Marbling is a pleasant, relaxing printing technique that produces distinctive and captivating designs. It is an old art form that has historically been connected with bookmaking. The method entails suspending pigment on the surface of a medium known as a marbling size before transferring the paint to paper or cloth. The end effect is a vibrant, wavy pattern reminiscent of the natural grain of marble and other stones such as jasper and malachite. Part of the appeal is that each print is a monotype, unique and hard to replicate.
Our Water marbling paint kit is such an excellent water painting art kit that it delights youngsters and adults from the moment they begin using it. There is no need for a painting foundation since the water art paint kit is suited for children of all ages and adults. Drop the paint on the drawing liquid, swirl it into any pattern, then transfer it to the paper according to the instructions. You will get lovely, innovative and wonderful water art.
This water painting art kit's pigments are non-toxic and manufactured of EPMC and nano pastes, resulting in superior color. Because of the eco-friendly ingredients, precipitation is obvious; therefore, please shake the bottle of colors before painting.
It is an ideal fun gift for family and friends. This water marbling paint art kit might be a unique Christmas or birthday surprise. As dyes are freely distributed, it increases children's imagination and hands-on abilities.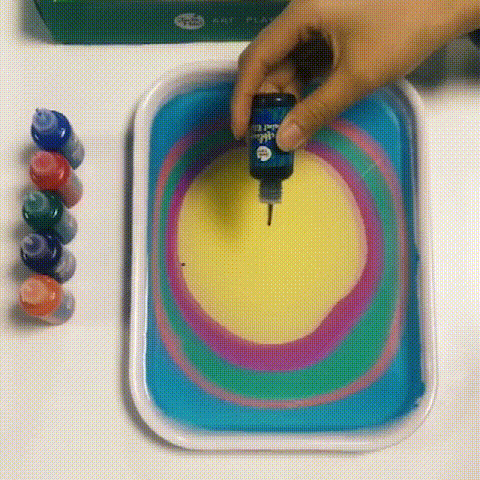 If you've heard of it and have always found it interesting but too scared to try due to the extensive supply list and unfamiliar ingredients. Don't worry! At NewWave our goal is to innovate and make products easier! The kit is super simple and set up only takes a few minutes.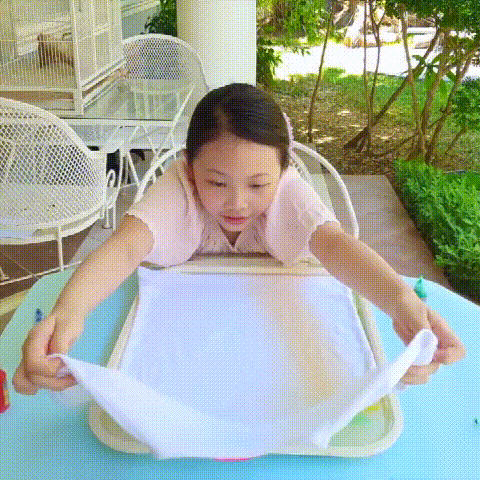 Create Prints On Water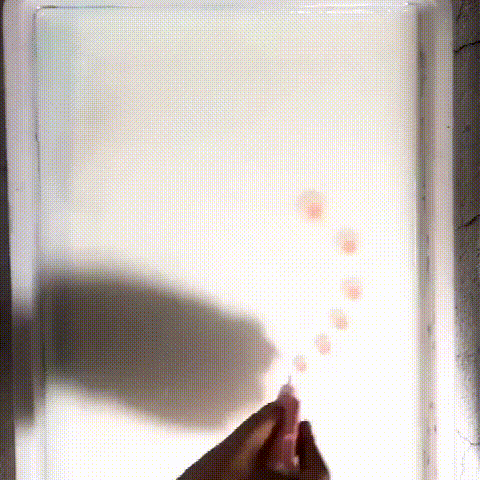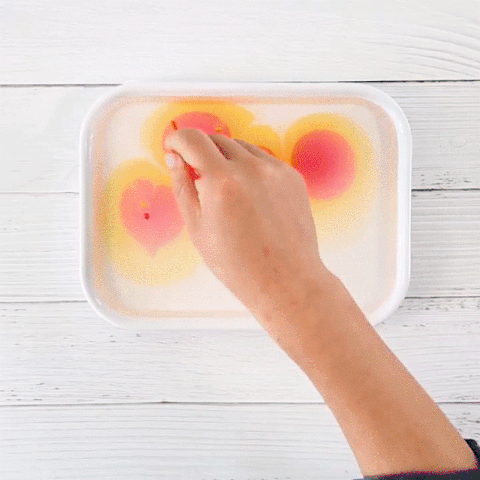 WASHABLE

 

–

 

Washes off easily with mild soap and water

 

whether it's after a 15 minute activity, or all day at the school fete.

 

Totally safe and non-toxic – doesn't irritate the skin at all!
EASY PRINT CREATION

 

– To create intricate prints, just

 

put few drops of multi-colored paints on the water, create swirling patterns of your choice, and then dip any absorbent material to transfer the print.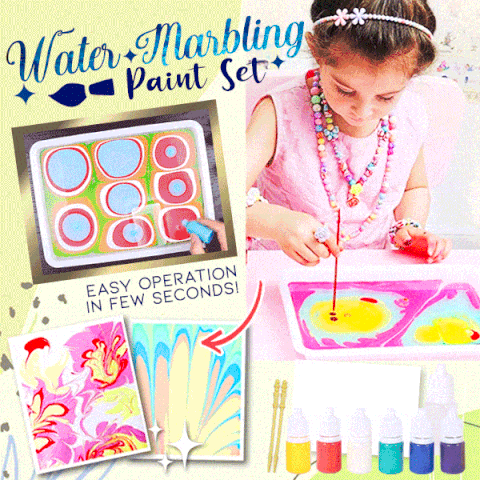 FOR ALL AGES

 

– Whether you're

 

beginner, professional, adult, or a kid, you can create any pattern that you can imagine with this set.
WIDE APPLICATION

 

– Can be used on multiple surfaces and material like

 

fabric, glass, wood board, ceramic, metal, and other water absorbing materials.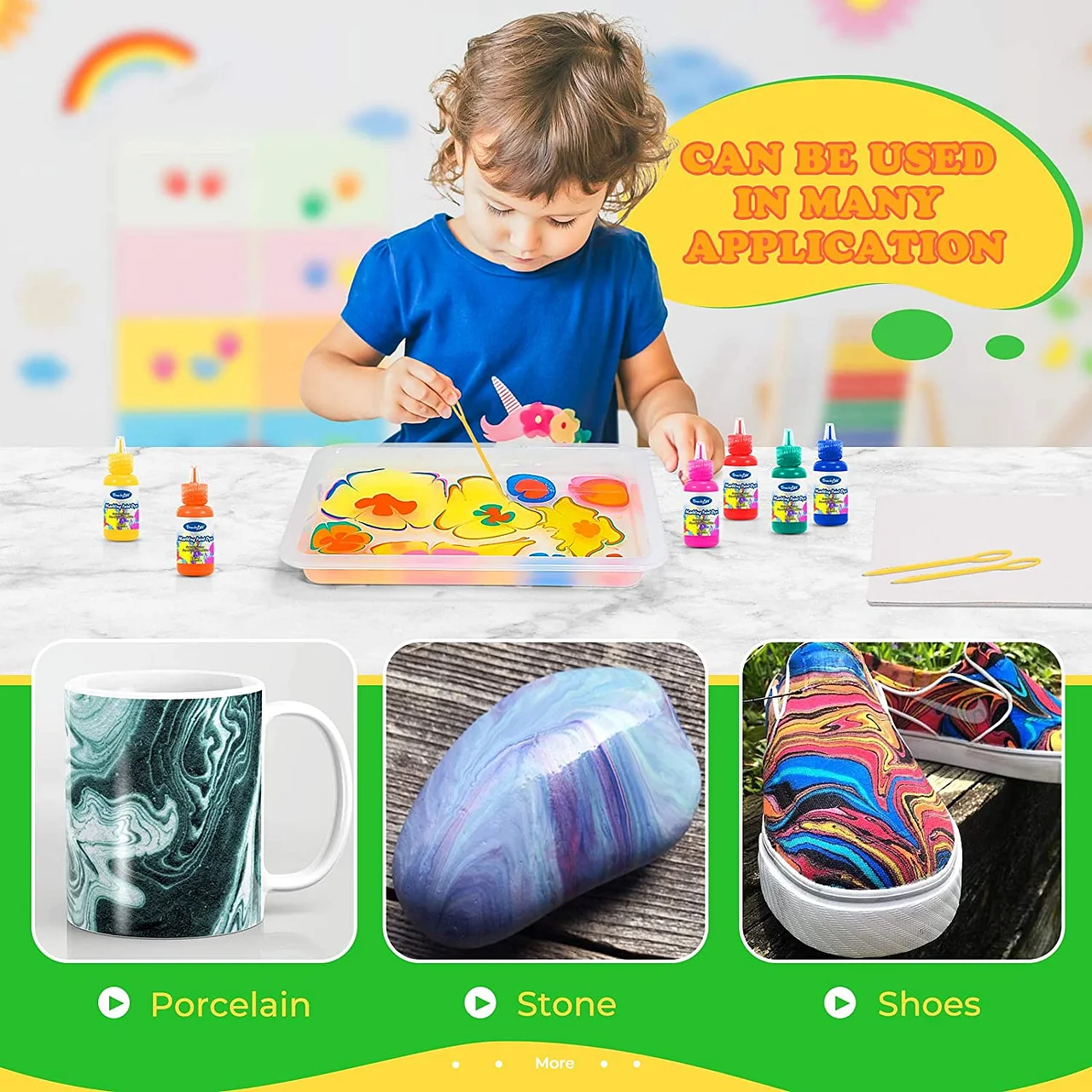 Create beautiful swirls of paint to your heart's content with the Water Transfer Paint Set! Flaunt your creative side more through your artworks!
HOW TO USE: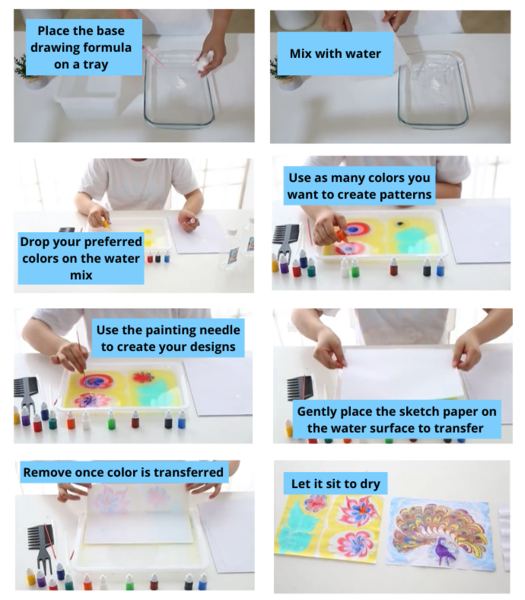 Specifications:
| | |
| --- | --- |
| Type | Watercolor Set |
| Color | Multicolor |
| Item Dimensions | 3.94 x 1.97 x 1.97 inches |
| Material | Plastic |
Features:
Customers love that the kit includes everything they need to start a paper marbling project without spending much money on supplies.
Easy & Unique Painting:
They are simple to use, favorable to beginners and work on various surfaces, including cloth. If your children wish to transform their plain t-shirts into beautiful works of art, they will be happy to wear them.
Perfect Marbling Kit:
The water marbling kit includes all of the necessary instruments. 12 bottles of paint (16ml each), 10 drawing sheets, 3 needles, a straw, a scraper, a measuring spoon, a tray, and a handbook are included.
Safe and Non-toxic:                                               
The Water Marbling Paint Kit's pigments are non-toxic and made of EPMC and nano pastes, resulting in a more vibrant hue. Because of the eco-friendly ingredients, precipitation is obvious; therefore, please shake the bottle of colors before painting.
Good Gift:
It's the ideal STEM activity for family and friends. This kit would make a unique Christmas or birthday present. As colors were freely distributed, the water marbling paint kit expanded children's imagination and hands-on skills. If you are not entirely pleased with the kit, don't hesitate to contact us.
Benefits:
This kit is non-toxic and constructed of environmentally acceptable components.
The marbling paint set aids in the development of children's color cognition, artistic cognition, hands-on ability, imagination, and creativity.
This water-marbling paint set may be used on various surfaces, including fabric, paper, gypsum, wood, stone, leaves, and others.
Tips before use:
Please shake the bottle of dyes before painting.
Read the marbling paint kit instructionsmanual before use.
You can also watch the instruction video in the slide above.
Frequently Asked Questions:
What kind of paint do you use for water marbling?
Paper marbling is one of our favorite creative activities. Using acrylic paint and liquid starch, you can make gorgeous and one-of-a-kind designs on your paper.
What do you need for water marbling?
You'll need the following:
A container.
Warm water.
Glue, like Elmer's Glue.
Tempera or acrylic paint - start with 1-2 colors.
Toothpick or a butter knife.
Paper, the thicker, the better.
How do you make thick water for marbling?
For the most excellent marbling consistency, combine 1/4 cup methylcellulose with 2 quarts of water. Stir the mixture with a whisk and set aside one hour to thicken.
Why does my marbling paint sink? 
The size might be too small or too old. One teaspoon of Methocel (Methocelulose) powder per gallon of solution, or discard and start over. The colors in the marbling are too thick. Add water to thin the paints, then skim the marbled foundation before testing.
DON'T WAIT!
Due to high demand we often sell out. If you have any questions, please email us at help@newwaveshoppe.com