---
All Kids Aspire To Be Pilots!
Are you trying to find the ideal gift for your kids? So stop searching now! Our RC Airplane Quadcopter Glider is made to be roughed up and abusively used, it is excellent for teaching. It is the best strategy for entering the world of remote-controlled toys! Flying with it is easy for everyone because it has built-in gyroscopic flying assistance, regardless of your level of RC airplane experience! 
A radio-controlled fighter jet (also known as an RC aircraft or RC plane) is a small flying vehicle remotely controlled by a ground operator using a hand-held radio transmitter. The transmitter connects continually with a receiver within the craft, which delivers signals to servomechanisms (servos), which move the control surfaces dependent on the location of joysticks on the transmitter. The control surfaces, in turn, directly impact the plane's orientation.
This RC fighter aircraft is easy to operate, thanks to its built-in 6-axis gyro system, making it ideal for beginners. It comes wholly constructed and ready to use right out of the box, and the controls are simple. This plane is composed of EPP material, which is both strong and flexible. EPP material is not readily destroyed and is lightweight, so don't be concerned if you bump your plane from time to time.
If you want an RC plane that looks realistic and can perform incredible air feats, this is the place to get it. Overall, this RC Jet has excellent features, looks natural, is lightweight, and has two difficulty settings, allowing beginners to enjoy the jet at all stages of their flying ability.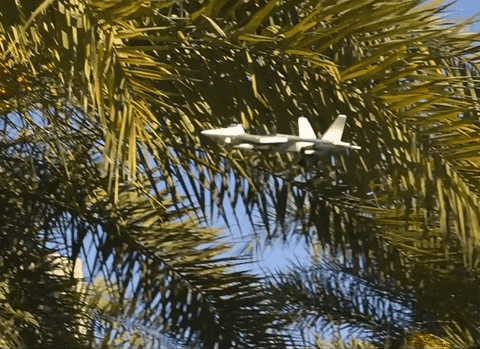 Best Features: 
Good Gliding Performance: It uses a pneumatic contour design that is highly efficient and offers good operability, stability, and gliding performance.
Lightweight but Stable: EPP is a lightweight, highly flexible, and difficult-to-break material.
2.4 GHz, no interference, 6 CH: Flying involves moving forward, backward, left or right, up or down, left or right, or left or right while rolling.
Additional Features: Stunt roll adds excitement to flying. The plane will stay cooler and won't get lost at night with cool lighting. Gravity sensing enhances the flying experience.
Specifications: 
Material: EPP

Fly Time: 8-10min

4 Motor: Coreless Motor (Brushed)

Charging time: 60-90min

Frequency: 2.4Ghz

Battery: 3.7V 500mAh

Remote Control Distance: 50-80m

Size: 36*26*10cm

Remote Control Battery: 3 * AAA battery (Not Included)
Features:
Accessible to Control and Fly:
The fighter with remote control Jet includes an in-built self-stabilization gyro system comparable to altitude hold and a simple operation mode that makes it easy to handle and fly. To manage the aerobatic capabilities of the RC aircraft, press the switch and pull the joystick. In essence, novices may fly the plane using the remote control without difficulty. Without a doubt, this is an excellent present for children aged 8 to 12 and for beginners.
2.4GHz Radio Control System:
The plane may be controlled in four directions with the remote control: up and down, left and right. It has a radio-controlled maximum range of 492 feet, allowing you an outstanding flight experience. The ease with which the plane's components may be installed in a short period is noteworthy; install the battery, airplane wheel, and airplane tail. This fantastic RC plane will suit all of your outdoor gaming needs!
Long Flying Time:
Three 3.7v 350 mAh Li-polymer batteries are included in the box. Each battery has a flying time of up to 15 minutes. You and your pals can organize small flying club parties. With this remote control fighter jet, you may have even more fun.
Product Information:
The remote control jet is built of crash-resistant EPP foam. Its lightweight and resilient foam structure will allow it to withstand minor collisions. This RC airplane has a fuselage length of 10.6 inches and a wingspan of 12.4 inches. The kit includes four spare propellers, which protect the propeller from harm.
Technical Support:
If you have any technical problems flying the RC plane, don't hesitate to contact us for after-sales technical help. We will be ready to handle any of your technical assistance needs. Please carefully read the product description and caution items before purchasing. To prevent interference, the jet must fly in an open area.
Benefits:
This RC fighter plane has outstanding performance and an almost quick throttle response. 
Fueled by a 6S LiPo battery, it has a maximum thrust of 3400g and a constant thrust of 3100g to 3200g.
It includes functioning flaps for faster takeoff and landing and better slow-flight performance.
This RC Jet has an integrated wing connector for simple installation and removal of the main wing.
This jet requires no glue to assemble; only eight screws are needed.
This jet fighter has a removable magnetic nose cone and removable ventral fins, which are equipped with durable plastic covers.
It also has a large battery tray that allows up to 6S 6000mAh Li-Po for increased flight times.
Flight Notes:
When to fly:Choose calm weather (not windy or rainy)
Site selection:Choose an open place
Flight mode:Ground takeoff or hand throw flight
Essential functions:Lift, advance and retreat, turn, side fly, fine-tuning,
Matching way:First, open the aircraft power, and then turn on the remote control power,
Frequently Asked Questions:
How much do RC jets cost?
A remote-controlled airplane may be purchased for as little as $200 for a beginner, but the price can grow based on the aircraft's kind, size, and design. The larger and more complex the plane you choose, the more expensive it will be to buy or construct your RC plane.
How fast do RC Jets go?
Off-the-shelf RC planes may reach speeds ranging from 30 to 150 mph, depending on their design, build, and engine type. Specialized design and engine types are required to accomplish even greater speeds - the current RC Plane speed record is 465.544 mph (749.221 km/h).
How high can RC jets fly?
The highest altitude remote-controlled (RC) model aircraft flight was completed on 13 October 2019 at Truth or Consequences, New Mexico, USA, by Paul Kaup, Jake Minker, Nick Ross, Eric Gordon, Rachel Stark, and Dani Deckert (all USA).
What is the cheapest RC plane?
The cheapest RC planes cost approximately $50, while a decent intermediate-quality model costs around $130 or less.
Are RC flying wings easy to fly?
Flying wings are simple, solid and light. They are simple to construct and travel well. You may carry many of them under one arm without fear of breaking them. They are made of solid EPP foam that does not compress and is so strong that we may crash into a brick wall, and the plane would still fly.
Package Included: 
1x RC Airplane

1x Battery

4x Spare Propeller

1x Remote Control

1x Charging Cable
DON'T WAIT!
Due to high demand we often sell out. If you have any questions, please email us at help@newwaveshoppe.com