The Perfect Christmas Present You've Been Looking For
At first we created an innovative flying saucer that could be thrown over 100ft across the yard. But we didn't stop there... The NewNova can now be thrown as a boomerang by simply tilting it upwards as you throw. Your kids Christmas just got a whole lot more exciting!
Meet the Nova Flying Spinner, a motorized flying spinner that floats, glides, and rises into the air on command before returning to your palm like a boomerang. It allows you to light up any area with fantastic acrobatic stunts that will have others wondering, "How did you do that?" And now, with the addition of an optional magic controller, you'll have even more control as you fly higher, further, and do more stunning tricks than ever before.
The flynova spinner is part of a new generation of revolutionary flying kites, and it has a high-performance motor with modern technology. Flynova spinners are composed of high-quality plastic that will last for years.
Flynova spinner is small and lightweight, making it easy to transport. This is an excellent approach to the spinner. With this spinner, you can attract and release a large quantity of light for your youngsters by flying the kite flying ball. The flying kite is composed of high-grade and environmentally friendly materials, is robust and durable, and has excellent craftsmanship and quality. The flying kite with the spinner may fly at incredible speeds at the same time.
It's the worry-free method to keep you and your loved ones engaged for hours, having been safety certified for use with youngsters. All while picking up new abilities, honing your hand-eye coordination, and getting off the sofa and onto your feet.
Nova flying spinner is the ideal remedy for confinement, boredom, and excessive screen usage. And the best part is that you can do it whenever you want, with whoever, anywhere, anyplace! The Flynova spinner will provide hours of entertainment and challenge to anybody who plays with it if you have a lawn, a rec room, or even a kitchen.
No batteries required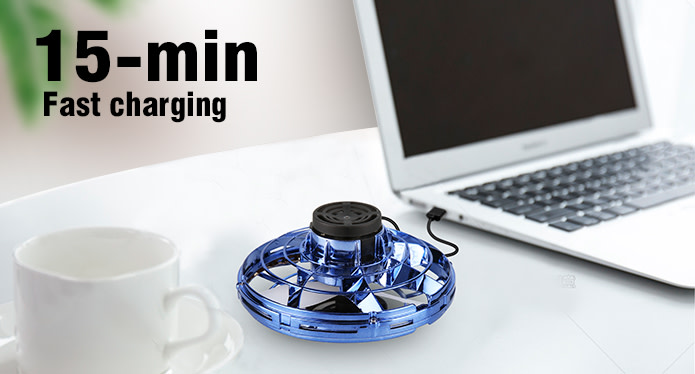 Extremely easy to use! Just spin to start


FEATURES

Simple & SAFE Design: The enclosed aerodynamic wheel mechanism protects your hands while spinning and performing maneuvers. The UFO-style drone spinner is designed to be safe for kids.
Easy to Run and Play: Turn on the power button, hold the center axis and shake to run the mini drone. If you wish to stop playing, just simply grab it. Different throwing speeds and angles allow for different flight paths, tricks, and high-speed maneuvers. 

Fun & Interactive: With endless acrobatic tricks, you can team up and play with others, create games, and enjoy friendly competition. It's the perfect way to relax, and relieve stress at home, school, or just about anywhere.

The Perfect Gift: This little flying spinner is the perfect gift for your child, friends, or colleagues. It's looks incredible at night & day thanks to the LED light design

Dynamic RGB Lights: Launching your Flynova through the sky will seem like a neon shooting star, thanks to three spectacular colored lights. If you genuinely want to stand out, practice your feats at night when your Flynova spinner can illuminate the darkness.

Shake to Start: With the Flynova spinner, getting started is simple. Please turn on the power button, hold the Flynova spinner up, and then shake it to start and toss it! You will immediately grasp the Flynova spinner's limitless flight possibilities.

Fly as a boomerang: Launch your Flynova spinner, then use the Boomerang to return it to home base - aka your palm. Toss the spinning Flynova spinner into the air and watch it return to you. With one hand, catch it and prepare to launch your next feat.

The Magician:  The Flynova spinner can spin at breakneck speeds while floating in place. Place your hand beneath the Flynova spinner and follow the spinning ball for as long as possible to simulate redefining gravity.
Benefits:
Nova's flying spinner provides intelligent flight. The flight lines and boomerang effect will change depending on the throwing angle and speed. 
It takes around 20 minutes to charge completely and has a working time of 8-10 hours. It is compatible with several charging ways, including a PC, power adapter, mobile phone, and portable charger. The indicator light glows during charging and shuts off when the battery is ultimately charged. It is rechargeable and may be used repeatedly. 
The Nova flying spinner is suitable for both indoor and outdoor use. It's an excellent toy for a range of events and interests.
It is beneficial to the development of children's intelligence and creativity. It is the best flying spinner.
Frequently Asked Questions:
How do you throw a fly, Nova?
Hold the FlyNova (horizontal and vertical to the ground) in one hand, tilt it upwards 15° to 45°, and toss it out; the FlyNova will return in the same direction. Hold the FlyNova (horizontal and vertical ground) with one hand and tilt it 15° to 45° to the upper left or upper right.
Does the flying spinner come back to you?
Like a boomerang, it will spin around its axis perpendicular to the direction of flight and return to you. You can both toss and catch it.
How long does the Flynova last?
The battery life of the Flynova is three times that of the original Flynova. It only takes a simple 25-minute charge to provide your Flynova with 30 minutes of pure flying time. So you can fly for longer, travel further, and keep the good times rolling.
I love this store.
Come here every Christmas to shop for my boys. Every toy so far has been a huge hit!
Very funny games!
We got both the newnova flying spinner and foosball winner! Loved them both, and made for great holiday game night with our cousins
I hate shopping online but with covid we decided to try it out.
Had nothing but great experiences so far with newwave. Really fun games that I've still never been able to find in store.
DON'T WAIT!
Due to high demand we often sell out. If you have any questions, please email us at help@newwaveshoppe.com