---
This Is Amazing For Your Child's Imagination!
This DIY Fort lets kids construct anything they please! Let your child see their ideas come to life. 
DIY Fort is a unique fort-building and construction toy that allows kids to create 3D, "life-size" worlds for imaginative play!
Imagine the hours of fun children will have building "forts" shaped like pirate ships, castles, playhouses, submarines, aircraft, teepees, tunnels, and so much more from a single fort magic kit! Fort magic transforms fantasy into reality with the strength of a child's creative hands. It is simple to construct and clean up. Fort Magic sparks children's imaginations and provides hours of imaginative play!
Forts are popular with children. There's no denying it. Give them a Fort Magic kit, and they'll be happy constructing and inventing for hours, whether they're building ideas from the handbook or smartly devising new ones. The fort magic kit can provide hours of entertainment for children. However, another advantage of fort magic building that parents may not recognize is that it is a fantastic learning instrument for the essential habits of pleasure and success. Fort Magic is enthusiastic about merging creativity and learning while having a great time!
Fort Magic is distinct from other building and construction toys available for youngsters due to its limitless building possibilities for creating "life-size" imaginative constructions. Fort magic is a favorite with children and families. Children are playing with and loving Fort Magic regularly, for months, even over a year. It's an inspiring and entertaining toy! Goodbye, technological addictions... hello, genuine playing that kids and families like!
Specifications:
| | |
| --- | --- |
| Material | Plastic |
| Educational Objective | Team Building Skills, Creative Thinking, STEM |
| Theme | Educational, House |
| Age Range | Kid |
Give them a fun indoor activity that will keep them off the screens and entertain them for hours!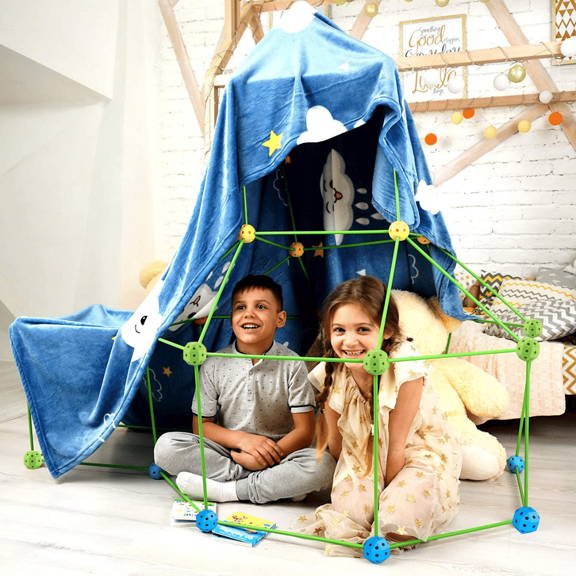 Endless Possibilities For Hours of Fun!
Our fort provides a great creative outlet for children to learn while playing.
Improves hand-eye coordination and strengthens small muscles as they discover how to put together the ball connectors and sticks.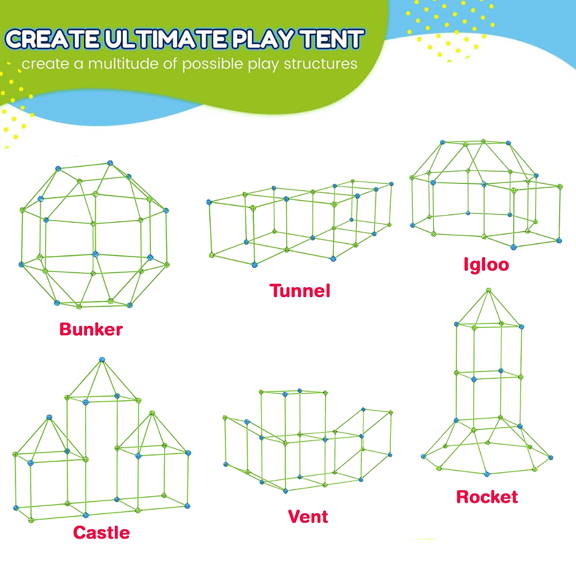 A Fun Private Space For Your Child
Once built, your child can use it as their own private play space.
Decorate it with sheets and cushions so your kiddo can use it to do homework, play or just relax!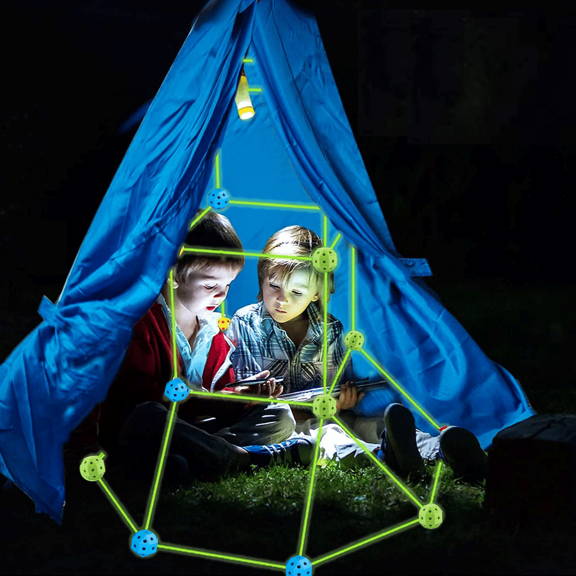 Made of BPA-free plastic
Stick with connector measures 14.6 inch (37 cm)

Ball connector measures 2.17 inch (5.5 cm)
Suitable for kids 3 years and older
78 PCS Pack Includes:
28 x Ball Connectors, 50 x Sticks, 100 x Connectors, 1 x Building Guide 
120 PCS Pack Includes:
45 x Ball Connectors, 75 x Sticks, 150 x Connectors, 1 x Building Guide
Features:
Innovative Fort Building Toy:
DIY Fort is a revolutionary fort-building and construction toy that allows children to build structures such as pirate ships, castles, playhouses, submarines, aircraft, teepees, tunnels, and more.
382 Building Pieces:
The set includes 382 building pieces, an entire storage bag, and a full-color instruction handbook featuring fort ideas.
Sticks and Connectors:
The "magic" in each DIY Fort Magic Indoor Fort Building Kit is the vast range of sticks and connectors. This one-of-a-kind combo lets your child's imagination run wild! With only one kit, students can make any design they can think of! The sticks and connections enable children to construct a wide range of buildings.
Fabric Clips:
The fabric clips secure whatever covering your children use for their fort. The kit does not include fabric coverings, but DIY Fort Magic plans to sell fabric covers separately in the future. Not to worry. We have plenty of linens and blankets.
Safety-Certified:
DIY Fort Magic has been approved for safety. The kit has been rigorously tested to the highest standards to guarantee that every safety step has been satisfied. Every test was carried out by a third-party independent lab approved by the US Consumer Product Safety Commission.
Easy to Install and Stable:
 Insert and twist the rods into the balls, and the builder attaches them in seconds and disassembles them.
In the market, plastic materials are employed, which makes the support easy to scatter and consumes a long time.
We have corrected this flaw using ABS materials, and this fort-building kit for kids can fully handle the problems of shaky support and lengthy installation time.
Educational and learning toys for kids:
Learn and play with this DIY fort construction toy for boys and girls to develop their friendship through creative play.
They may collaborate to debate and develop the designs they desire to stimulate their brains and thinking abilities.
Benefits:
This inventive DIY fort kit may be used both indoors and outdoors, and it is not only entertaining but also informative.
High-quality fort-building toys like this are excellent for teaching children about planning, problem-solving, and collaboration.
It comes in a colorful box and is the ideal present for children aged 3 and above, both boys and girls, for their birthdays, holidays, and Eid.
The 382-piece kit includes a variety of rods, connections, and accessories to allow you to build a fort anywhere, at any time.
The Fort Magic kit includes little plastic "clips" that let you connect any fabric, blanket, bed sheets, etc., to your design, making it highly adaptable to whatever you have on hand.
Educational Benefits of Building Forts:
Some of the educational benefits include:
Increases spatial intelligence
Stimulates invention and creativity
Improves fine and gross motor skills
Promotes multi-sensory learning
Builds interpersonal cooperation
Provides an opportunity to plan and finish a project
Enhances a love of learning, curiosity, and exploration
Increases critical thinking and problem-solving skill
Provides a fun way to promote STEM skill development
Building Supplies Of Fort Magic:
The Fort Magic Building Kit comes with the following building supplies (382 pieces!):
165Straight and Curved Sticks (in seven different sizes)
87Connector pieces (in five varieties of shapes and sizes)
130easy-to-use fabric and accessory clips to securely fasten sheets or fabric to ANY shape design your child invents
A full-color Instruction Manual with over 20 designs to build
A high-quality Storage Bag that securely holds all of the Fort Magic pieces, making clean-up quick and easy every time
Fabric covers are NOT included you can see from the list above. The Fort Magic kit comes with everything you need to construct AMAZING forts!
Different Ways To Use DIY Fort:
Here are a few of the ways we think your kids will have fun playing and building forts:
Animal play – have your kids pretend to be their favorite animal and build a unique home they would like to live in.
Playschool – have the kids build a school fort. They can play in school fort and not even realize they are learning.
Cooking- give your kids some extra plastic bowls, cups, and other kitchen items you have. Have the kids pretend to cook or make simple things such as cookies and lemonade. Gather the ingredients together they will need and have them play cook in their particular fort.
Eat a meal – kids love doing things together as a family. Why not have a family dinner in the fort? Eat a small snack together or a simple dinner of pizza in your kids' secret hideaway.
DON'T WAIT!
Due to high demand we often sell out. If you have any questions, please email us at help@newwaveshoppe.com